YPS-AAEM promotes the professional development of its members and provides them with education consistent with the principles and activities of AAEM.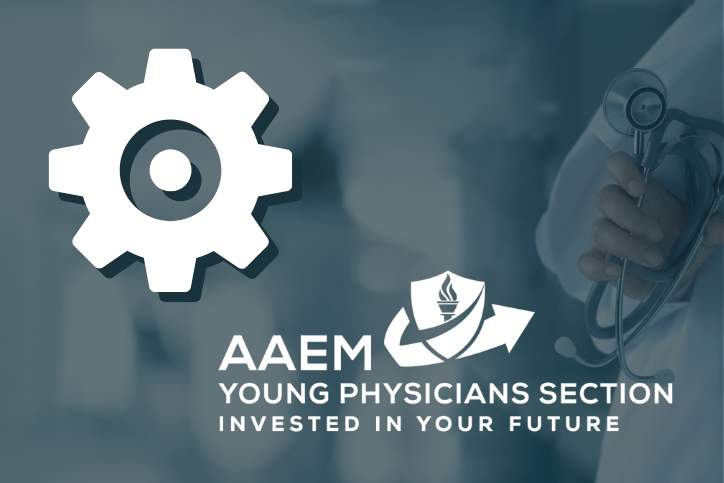 Resources for Young Physicians
Check our resources to support the next stage of your career in emergency medicine.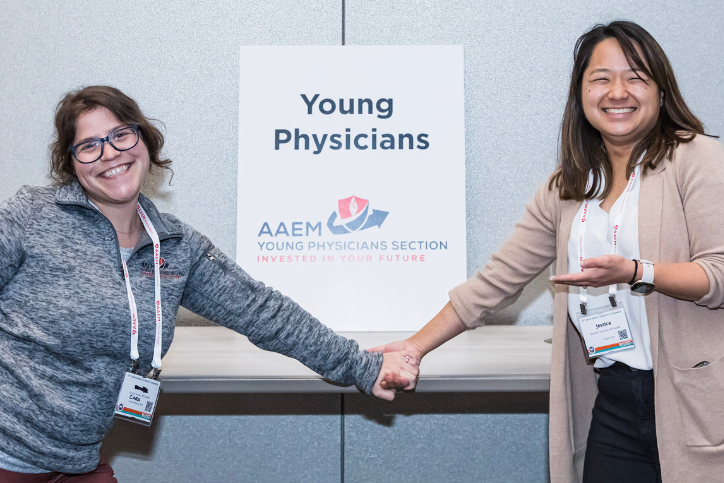 Join a YPS-AAEM Workgroup
Get involved with YPS-AAEM on the ground level by joining a work group today.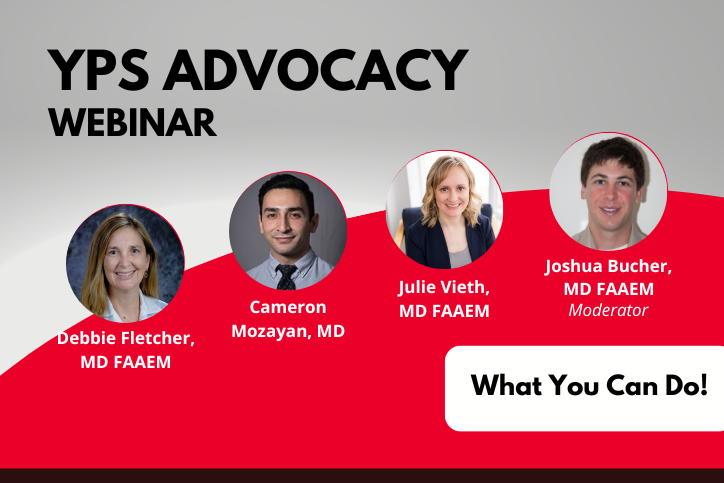 Latest Webinar Recording
Watch "What You Can Do!" A webinar on Advocacy brought to you by YPS-AAEM.
More About Young Physicians Section
About YPS-AAEM
AAEM Young Physicians Section (YPS-AAEM) membership is open to all emergency medicine residency-trained Fellow-in-Training, Associate, or Full Voting members of the American Academy of Emergency Medicine who are within the first five years of professional practice after residency or fellowship training.
Bylaws
Leadership
Chair
Moiz Qureshi, MD MBA
Chair-Elect
Jennifer Rosenbaum, MD
Secretary/Finance Chair
Nicholas Boyko, DO
Immediate Past Chair
Jessica Fujimoto, MD FAAEM
Councilors
Jack Allen, MD
Jennifer McGowan, MD
Michelle E. Romeo, MD
Open Position (contact Kathy Uy, AAEM Senior Meetings Manager, if interested)
AAEM/RSA Representative
Anantha Singarajah, DO
Board Liaison
Fred Earl Kency, Jr., MD FAAEM FACEP
Membership
You must be a current AAEM member who is within the first five years of professional practice after residency or fellowship training to join this section.
I'm already an AAEM Member. Join YPS-AAEM.
You can also add an YPS-AAEM Membership when you become an AAEM member today!
Dues
Full Voting (Free)
Associate (Free)
Fellow-in-Training (Free)
Section memberships run on a calendar year and must be renewed annually.
Benefits
Free CV and Cover Letter Review
YPS Mentoring Program
Rules of the Road for Young Physicians
Opportunity to have articles published in the YPS-AAEM section of Common Sense
Upcoming YPS-AAEM Events
There are no upcoming events.
Common Sense Articles
Read articles from AAEM's member magazine, Common Sense, authored by YPS-AAEM members.
Follow YPS-AAEM on Social Media