Emergency Medicine Antibiotic Stewardship Pledge
As an emergency care provider, I commit to being a frontline champion for antibiotic stewardship to improve patient
safety and decrease the spread of antibiotic resistance. This includes the following specific pledges:
I will seek out educational opportunities to update my knowledge around best practices for antibiotic prescribing.
I will provide timely, broad-spectrum antibiotics to patients with bacterial sepsis.
I will avoid antibiotic prescribing for non-responsive respiratory tract conditions (e.g., influenza, common cold, bronchitis).
I will discuss any diagnostic uncertainty and present both risks and benefits to patients before prescribing antibiotics.
I will avoid routine urine cultures and antibiotic prescribing for patients with asymptomatic bacteriuria.
I will ensure that those practicing under my direct supervision (e.g., residents, advanced practice providers) adhere to antibiotic stewardship principles.
AMR Challenge
The Antimicrobial Resistance (AMR) Challenge was a yearlong effort (September 2018-September 2019) organized by the U.S. government to accelerate the fight against AMR. The Challenge resulted in more than 350 organizations across the globe committing to slow AMR. The AMR Challenge encouraged a One Health approach, recognizing that the health of people is connected to the health of animals and the environment. CDC, on behalf of the U.S. government, encouraged commitments that focused on at least one of the five commitment areas:
Tracking and data: Share data and improve data collection
Infection prevention and control: Reduce the spread of resistant germs
Antibiotic use: Improve antibiotic use, including ensuring people can access these medicines when needed
Environment and sanitation: Decrease antibiotics and resistance in the environment, including improving sanitation
Vaccines, therapeutics, and diagnostics: Invest in development and improved access
AAEM joined the challenge under the leadership of Dr. Michael Pulia, Chair of the former AAEM Antibiotic Stewardship Task Force, with specific commitments (e.g. developing an ED antibiotic stewardship pledge) to improve antibiotic use in the emergency department setting.
The Challenge kicked off and concluded at United Nations (UN) General Assembly side events in 2018 and 2019. The events were attended by representatives from governments, private industry, and organizations committed to keeping AMR a priority.
The events were filmed live and are available on YouTube: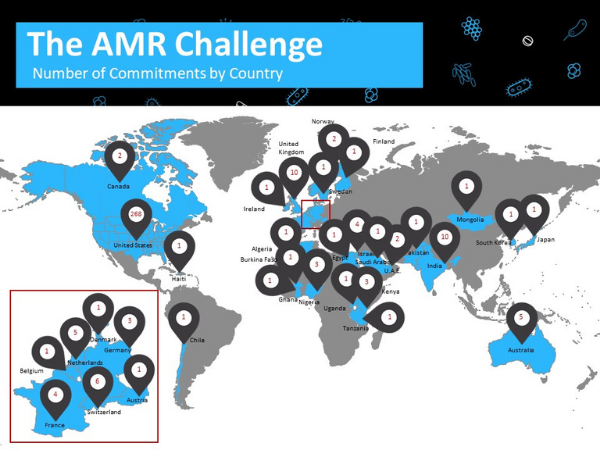 Download the AAEM Commitment Card.
Visit the AMR program website.
Be Antibiotics Aware
The Antibiotic Stewardship Task Force participates in the Be Antibiotics Aware campaign each year, spreading educational materials for patients and providers on the appropriate use of antibiotics. In addition, The Task Force is responsible for other CDC antibiotics use promotions throughout the year.
Resources
Emergency Department and Urgent Care Stewardship Toolkit
The MITIGATE (A Multifaceted Intervention to Improve Prescribing for Acute Respiratory Infection for Adults and Children in Emergency Department and Urgent Care Settings) toolkit is intended as a "gold standard," step by step implementation guide for health care providers and administrators interested in designing quality improvement programs in antimicrobial stewardship in emergency department (ED) and urgent care healthcare settings. When implemented as written, the toolkit will fulfill the CDC Core Elements of Outpatient Antibiotic Stewardship. For more background information on the toolkit visit the SHEA website.
Be Antibiotics Aware Week
Be Antibiotics Aware Week is an annual one-week observance to raise awareness of antibiotic resistance and the importance of appropriate antibiotic prescribing and use.
Antibiotic Prescribing and Use in Doctor's Offices
The use of antibiotics is the single most important factor leading to antibiotic resistance around the world. Antibiotics are among the most commonly prescribed drugs used in human medicine. However, up to 50% of all the antibiotics prescribed for people are not needed or are not optimally effective as prescribed. Antibiotics are also commonly used for promoting growth in food animals, one type of use that is not necessary.
Campaign Objectives
Promoting adherence to appropriate prescribing guidelines among providers
Decreasing demand for antibiotics for viral upper respiratory infections among healthy adults and parents of young children
Increasing adherence to prescribed antibiotics for upper respiratory infections.
Article Resources
While current research efforts focus primarily on identifying patient level interventions that mitigate the direct impact of COVID-19, it is important to consider the collateral effects of COVID-19 on antimicrobial resistance. Early reports suggest high rates of antibiotic utilization in COVID-19 patients despite their lack of direct activity against viral pathogens. The ongoing pandemic is exacerbating known barriers to optimal antibiotic stewardship in the ED, representing an additional direct threat to patient safety and public health. There is an urgent need for research analyzing overall and COVID-19 specific antibiotic prescribing trends in the ED. Optimizing ED stewardship during COVID-19 will likely require a combination of traditional stewardship approaches (e.g. academic detailing, provider education, care pathways) and effective implementation of host response biomarkers and rapid COVID-19 diagnostics. Antibiotic stewardship interventions with demonstrated efficacy in mitigating the impact of COVID-19 on ED prescribing should be widely disseminated and inform the ongoing pandemic response.
Antimicrobial stewardship in the ED ripples outward into the rest of the hospital. "The ED is the nexus of the [United States] health care system. 20% of the US population goes to an ED each year. ED visits trigger about 75% of all hospital admissions and about 30% of acute care visits. Antibiotics are administered in about 25% of the nearly 35 million ED visits annually in the United States, making them the second most common category of drug used in the US health care system," said Michael Pulia, MD FAAEM, from the University of Wisconsin School of Medicine and Public Health, Madison, Wisconsin, in his session.
Michael S. Pulia, MD FAAEM
Chair, AAEM Antimicrobial Stewardship Task Force
As a participant in the White House forum, AAEM strengthened its national leadership role and committed to improving antibiotic stewardship in the ED over the next five years with seven initiatives. Read the article above for full details.
Michael Pulia, MD FAAEM; Stephan Liang, MD; Larissa S. May; MD MSPH
Antibiotic Stewardship Defined
Top 10 Ways to Improve Stewardship in Your ED
---
---