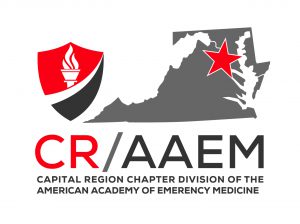 The Capital Region Chapter Division of AAEM (CR/AAEM) consists of Maryland, Virginia, and the District of Columbia. CR/AAEM advocates for the values of AAEM at the regional level for its members.
More about CR/AAEM
About CR/AAEM
Learn more about CR/AAEM through its bylaws.
Bylaws
Leadership
President
Terrence M. Mulligan, DO MPH FAAEM FACOEP FIFEM FACEP FNVSHA FFSEM HPF
Secretary/Treasurer
L.E. Gomez, MD MBA FAAEM
At-Large Directors
William Brady, MD FAAEM
Joel Clingenpeel, MD MPH MS MEdL FAAEM
William T. Durkin, MD MBA FAAEM
Bruce Lo, MD MBA RDMS FAAEM
Membership Information
If you are already a member of AAEM or AAEM/RSA:
If you are not a current AAEM or AAEM/RSA Member:
Dues
Full Voting ($50)
Associate ($25)

Fellows-in-Training ($25)

Resident (Free)
Medical Student (Free)
Chapter division memberships run on a calendar year and must be renewed annually.
Upcoming CR/AAEM Events
There are no upcoming events.