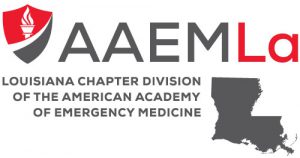 The Louisiana Chapter Division of AAEM (AAEMLa) advocates for the values of AAEM at the state level for its AAEMLa members.
More about AAEMLa
About AAEMLa
Learn more about AAEMLa through its bylaws.
Bylaws
Leadership
President
Deborah Fletcher, MD FAAEM

Vice President
Vanessa Piazza, MD FAAEM

Secretary-Treasurer
Christine Butts, MD FAAEM

Immediate Past President
Meredith Hall, MD FAAEM
At-Large Directors
Nicole McCoin, MD FAAEM
Meghan Maslanka, MD FAAEM
Britni Sternard, MD FAAEM
Michael Truax, Jr, MD FAAEM

Resident Representative
Maria Arulraja, MD
Resident Representative
Morissa Taylor, MD
Membership Information
If you are already a member of AAEM or AAEM/RSA:
If you are not a current AAEM or AAEM/RSA Member:
Dues
Full Voting ($100)
Associate ($75)

Fellows-in-Training ($75)

Resident (Free)
Medical Student (Free)
Chapter division memberships run on a calendar year and must be renewed annually.
Benefits
Free registration to the AAEMLa Educational Symposium and Annual Meeting
Upcoming AAEMLa Events