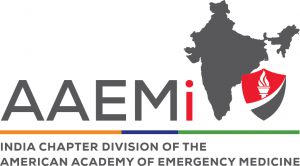 AAEMi was created and organized for the purpose of promoting and protecting excellence and integrity in the practice and management of emergency medicine in all clinical and administrative settings within India (including, without limitation, the development, publication and promotion of appropriate branches and professional standards in the emergency medicine industry); raise public awareness of the scope of Emergency Medical Services; enhance and optimize disaster preparedness and response in India; improving the quality, providing professional and public education, and to do any other act or thing incidental to or connected with the foregoing purpose or in advancement thereof, but not for the monetary profit or financial gain.
AAEMi Frequently Asked Questions
Must I be a member of AAEM to become a member of the India Chapter Division of AAEM? No, membership in the India Chapter Division is separate from membership in AAEM. To become an AAEM member, please visit the AAEM website or call (800) 884-2236. I am a member of the India Chapter Division of […]
More about AAEMi
About AAEMi
Learn more about AAEMi through its bylaws.
Bylaws
Leadership
Officers
President
John R. Acerra, MD FAAEM

Immediate Past President
S. V. Mahadevan, MD

Vice President
Terrence M. Mulligan, DO MPH FAAEM

Secretary/Treasurer
Katherine Douglass, MD, MPH
At-Large Directors
George Abraham, MD
Kumar Alagappan, MD FAAEM FIFEM
Lingappa Amernath, MD
Joseph D. Ciano, DO
Ashes Mukherjee, MD
Pinaki Mukherji
Neeraj Patil, MD MBBS FRCS MRCS
Sohil Pothiawala, FAMS EM MRCSEd A&E
Membership Information
If you are already a member of AAEM or AAEM/RSA:
If you are not a current AAEM or AAEM/RSA Member:
Dues
Fellow or Full Voting ($75)
Associate ($75)
International ($50)
Resident ($40)
Medical Student ($20)
Chapter division memberships run on a calendar year and must be renewed annually.