AAEM23 will be held at the New Orleans Marriott. Located at the edge of the French Quarter along the Canal St. Streetcar Line, the New Orleans Marriott offers accommodations with a fully equipped fitness center and rooms with views of the Mississippi River. Bourbon Street is within a 5-minute walk of the hotel.
AAEM23 sessions and events will occur within the hotel except where noted in the program schedule.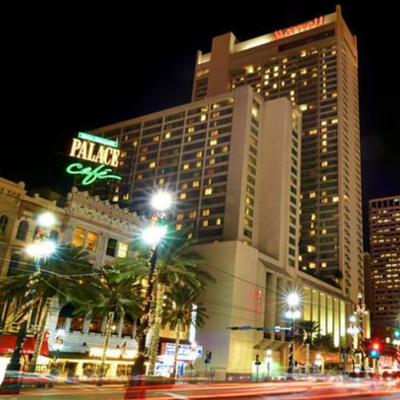 AAEM23 Conference Attendee Benefits
New Orleans Marriott guests will receive:
Complimentary 24/7 access to fitness center with access to a 24-hour pool
Complimentary wireless guestroom internet for Marriott Bonvoy members. It's free to join!
Ease of access to social events and networking opportunities!

Check-In
Check-in time is 4:00pm CST. Check-out time is 11:00am CST.
Early Departure Fee
An early departure fee of one night ($249) will apply for attendees that check out prior to the confirmed departure date. Guests wishing to avoid this fee must advise the hotel at or before check-in of any change in the scheduled length of stay.
Government/Military Rates
The hotel will honor the government/military rate for any qualified guest if available. Any guest booking the government/military rate will be required to show their valid government ID upon check-in. If the guest is being reimbursed through their government agency, the guest should check with their agency's policies for the proper booking channels to be reimbursed.
Parking
Self-parking not available. Valet Parking is $50 USD daily in/out access.
Cancellation
The hotel allows individual attendees the right to cancel their guestroom reservations without penalty up to three (3) days prior to the scheduled arrival date. Any remaining nights of a no-show reservation will be canceled without additional penalty.
Pet Policy
Pets are not allowed at this venue. Please contact the hotel for other options.
Transportation from Airport to New Orleans Marriott
Nearby Airports
Louis Armstrong New Orleans International Airport (MSY) – 16 miles

Transportation Options
Airport Shuttle
Airport Shuttle is the official ground transportation service from the airport to New Orleans hotels. Use their website to make a reservation in advance. Anticipate rates around $44.00 round trip (varies based on demand). Dial 504-522-3500 for hotel and routing information.
App-based ride services
App-based ride services (i.e. Lyft or Uber) provide prearranged transportation between the airport and passenger-specified locations in Zone 2 (2nd curb from the Arrivals terminal building). Passengers arrange service online, typically using a smartphone app. Please note there may be an additional fee charged for airport rides that may not be included in the initial fare estimate. See airport signage for more information.
Taxis
Taxis pick up passengers on the Arrivals curb outside of Level 1, Baggage Claim Door 7. Taxi rides cost around $36.00 from the airport to the French Quarter for up to two (2) passengers. For three (3) or more passengers, the fare will be $15.00 per passenger. Taxis are required to accept credit card payments.
Post Covid-19 Pandemic Hotel Expectations
With travel demand soaring, hotel rates have risen more than 10-percent, according to CWT and the Global Business Travel Association's Global Business Travel Forecast. Rising labor, food, and fuel costs are contributing to increased rates, with product shortages, staffing, and shipping delays as well as scarcity of consumer goods driving up inflation and operating costs. The pandemic has altered the way hotels structure their offerings including evolving food and beverage options, updated service hours, and service-level adjustments, such as changes to room service, housekeeping, restaurant availability, and hours of operation for recreational facilities. Please contact the hotel front desk at check-in if you have requests and alert an AAEM staff member onsite if you have questions or concerns.